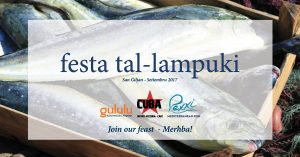 San Ġiljan – Settembru 2017
Lampuki is Malta's fish, our fish. Since time immemorial this beautiful fish, blue and gold, has kept its appointment and swum in large shoals past our islands providing fresh fish on the tables of all, rich and poor alike.
Our fishermen land Lampuki in abundance employing age old fishing methods originating from classical times, which till today are exclusively used by them. The Lampuki swim the Atlantic and Pacific oceans too where they grow far larger in size and are known by other names like Dorado and Mahi Mahi.
We celebrate the Lampuki season each year with specially prepared dishes, both traditional and contemporary.
Join our feast – Merħba!